WATCH: Irina Shayk's collagen must-have for firm, youthful skin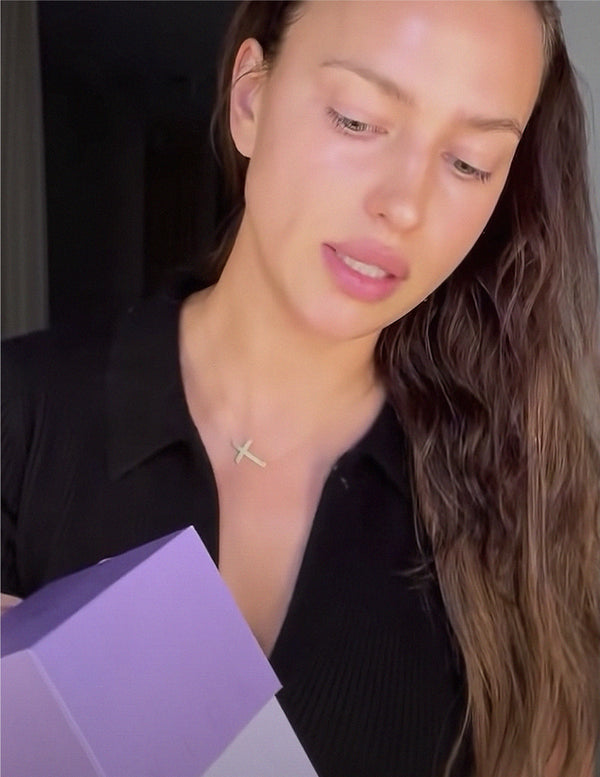 No matter our skin concerns, we're always seeking a plump, healthy complexion. But modern-day supermodel and actress Irina Shayk takes her glow to a new level. So we're taking notes on her skincare routine, step by step.
With naturally dry skin, long-haul travel and a busy schedule, Irina's skincare prioritises hydration. Every night, Irina applies rejuvenating serums and slather of moisturiser – twice – and even sleeps with a humidifier on overnight.
But her routine doesn't stop there. Irina's skin care goes deeper with a daily dose of Vida Glow's Natural Marine Collagen. "What I really love to do to keep my skin young and wrinkle-free is my favourite Vida Glow collagen," shares Irina. "It comes in different flavours – personally I love Blueberry."
In easy, convenient sachets, our Irina's daily dose of collagen seamlessly fits into her night-time routine. "You open the sachet, you put it in a glass with water and then you mix it," explains Irina. And she's whole-heartedly embracing her new routine. "I drink it from the straw because it feels like you're having a cocktail before you go to bed," admits Irina. "Usually, I'm pretty bad with taking vitamins, but this powder tastes really good."
WATCH: Irina's 'Go To Bed With Me' routine with Harper's Bazaar. 
Curious to find out more about the supermodel-approved collagen supplement? Keep reading to discover the anti-ageing benefits of our Natural Marine Collagen.
What is collagen?
Collagen is the body's most abundant protein. It's naturally present deep in the skin's dermis. Not only does collagen give our skin it's plump and firm texture, but it supports the structure of hair and nails too.
Why should I take a collagen supplement?
With the natural ageing process, our collagen production slows and starts to deplete from around the age of 25. This is when we begin to notice fine lines, slow-growing hair and weak nails.
What is marine collagen powder?
Our marine collagen is collagen peptides extracted from responsibility-farmed fish. Vida Glow's collagen is broken-down, so the fine powder is effectively and efficiently absorbed by the body. Once in the bloodstream, marine collagen peptides can travel to the dermis and stimulate collagen production.
What are the benefits of collagen?
By stimulating collagen production, Natural Marine Collagen promotes youthful skin, hair and nails – with clinically proven benefits in weeks.
And our marine collagen isn't just enjoyable to supplement, one daily sachet delivers real results. Marine collagen is clinically proven to improve the appearance of wrinkles by 60% and increase skin hydration by 68% (1). Collagen supplementation also creates an optimal environment for strong, healthy hair and nails.
How do you take Vida Glow?
Natural Marine Collagen is available in easy-to-supplement sachets.
To make sure you never skip a day, keep sachets at your desk or in handbag for collagen-boosted hydration, whenever you need it. Or keep a box of Natural Marine Collagen on your skincare shelf like Irina. 
What does Vida Glow taste like?
Natural Marine Collagen Original is flavourless and tasteless, while our fruit flavours are naturally sweet. Vida Glow's marine collagen is even heat stable. So you can supplement collagen in chilled or hot drinks – without effecting its efficacy.
For supplementation inspiration, try our Natural Marine Collagen in Mango or Peach in chilled water, Blueberry to sweeten green teas and Original in your morning coffee.
How do I add collagen to my routine?
Start your ingestible beauty routine with one daily sachet. Our on-the-go collagen sachets can be taken whenever, wherever – so find a time and flavour that works for you.
When you're seeing the first signs of ageing, one sachet a day supports the natural ageing process and healthy skin, hair and nails. Establish your new routine, then try increasing your daily dose to two or three sachets for enhanced results.
As a clinically proven marine collagen, Vida Glow is Irina Shayk's essential for firm, plump skin.
To experience the visible results of collagen supplementation in weeks, add Natural Marine Collagen to your skincare routine.
1 Duteil, L., Roussel, C., Bruno-Bonnet, C., Lacour, J. Effect of Low Dose Type I Fish Collagen Peptides Combined or not with Silicon on Skin Aging Signs in Mature Women. JOJ Case Stud. 2018; 6(4): 555692. DOI: 10.19080/JOJCS.2018.06.555692
SHOP THE STORY