How long does collagen take to work? It's sooner than you think
Ingestible collagen has quickly cemented itself as a science-backed beauty essential. Collagen takes effect on a cellular level for enhanced results. It's fast and convenient to supplement – but how long does collagen take to work?
Ingestible beauty distributes active ingredients like collagen peptides through the bloodstream to reach skin across the body, and hair and nails. Instead of the instant gratification of a hydrating cream, collagen has delayed – but clinically proven and lasting – benefits.
So how long does it take for collagen to start working? Tangible results for skin, hair and nails are seen in as soon as four weeks. And with consistent, daily supplementation, the best results are achieved from 12 weeks.
As for how long to take collagen supplements, collagen works by replenishing collagen peptides to stimulate its production. If you're inconsistent with supplementation or decide to stop, collagen production will slow to its natural production rate – and results will gradually fade.
Read on to discover more about how long collagen takes to work.
How long to take collagen for skin
With daily supplementation of as little as 2.5 grams of collagen – less than one Vida Glow sachet – early results like improved skin hydration can be seen in just four weeks.
After six weeks of supplementation, fine lines around the eyes and mouth begin to soften. As the collagen matrix becomes stronger and thicker, skin regains its firm, smooth qualities to minimise the appearance of deeper wrinkles.
After 12 weeks, skin elasticity is improved. And the full benefits of marine collagen are maintained with ongoing supplementation.
How long to take collagen for hair
Collagen supplementation also supports full, healthy hair by creating an environment for optimal hair growth. While our community report the growth of baby hairs within weeks of starting supplementation, ingestible collagen is clinically studied to increase hair thickness. In 16 weeks, 2.5 grams of collagen a day was found to increase hair thickness in the treatment group – while hair thickness declined in the placebo group (1). With long-term supplementation, our community also report losing less hair and faster growing strands.
How long to take collagen for nails
In the Vida Glow community, fast-growing, unbreakable nails are the first results to be seen. In a nail-specific clinical study, collagen was found to aid brittle nails and nail growth (2).
After 12 weeks of consistent supplementation with 2.5 grams of collagen, nail growth increased by 10%2 – and broken nails were reduced by 42% after 24 weeks (2).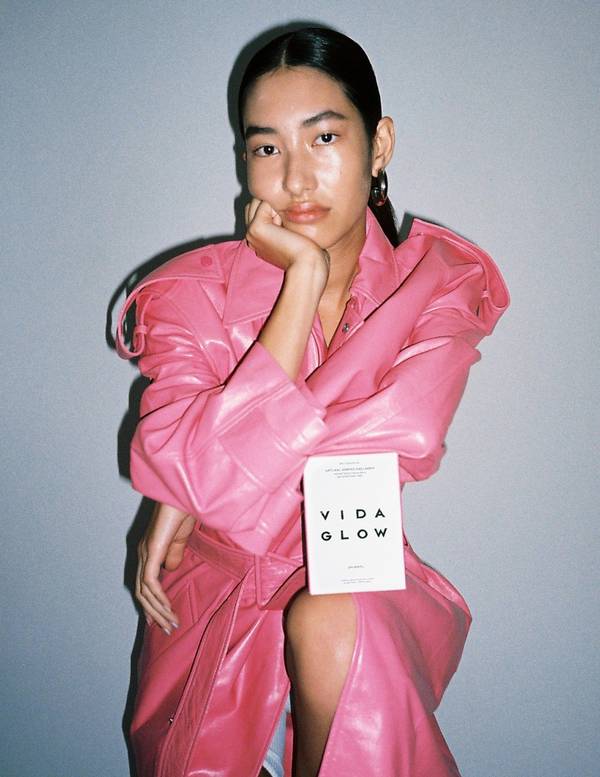 The fast, visible results of collagen supplementation start with a consistent routine. Keep to it and in as soon as 12 weeks, skin is firmer, hair is thicker, and nails are stronger. The results are worth the wait.
(1) Oesser S. The oral intake of specific Bioactive Collagen Peptides has a positive effect on hair thickness. Nutrafoods. 2020; 1:134-138. DOI 10.17470/NF-020-0019.
(2) Hexsel D, Zague V, Schunck M, Siega C, Camozzato FO, Oesser S. Oral supplementation with specific bioactive collagen peptides improves nail growth and reduces symptoms of brittle nails. J Cosmet Dermatol. 2017;00: 1–7. https://doi.org/10.1111/jocd.12393
SHOP THE STORY