Experiencing post-partum hair loss? Discover Stephanie's marine collagen hair recovery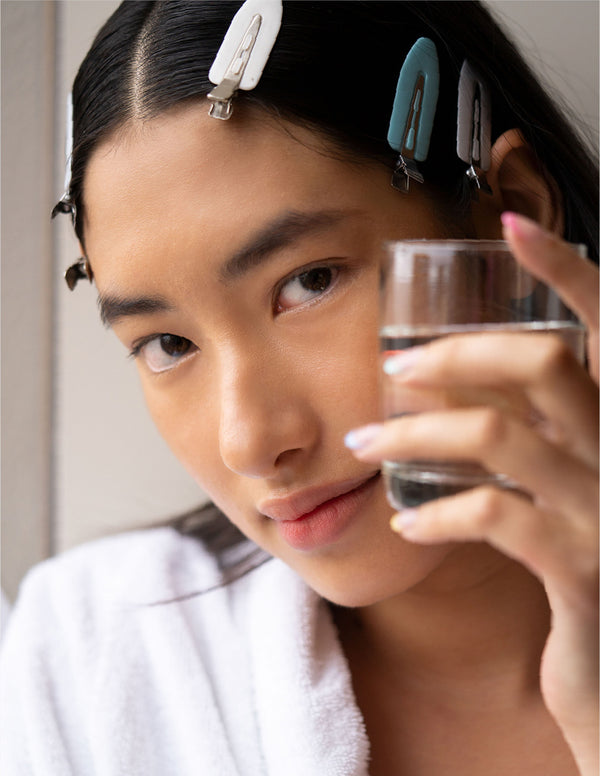 New motherhood isn't just a big adjustment for us, but our bodies too. The changes during pregnancy and the months post-partum can send our bodies off-course. One of the most drastic changes can be seen in our hair – with sudden and significant hair loss.
"When I was two months post-partum, I noticed my hair line was almost receding," shares new mother and first-time Vida Glow customer, Stephanie. "I felt worried that I would go bald."
And Stephanie isn't alone. For many, post-partum hair loss is a disheartening, emotional experience on top of the ups and down of new motherhood. It's for this reason that we're sharing Stephanie's post-partum Vida Glow experience. With our commitment to modern beauty concerns, we're proud to share real customer testimonials and their visible results with our community.
Here, Stephanie shares her experiences with post-partum hair loss – and the ingestible beauty routine that restored her full, healthy hair and self-confidence in eight weeks.
What were your beauty concerns before taking Vida Glow?
"I was very self-conscious to have my hair pulled back – there was such a big patch of hair missing. I wanted to do something about it as soon as possible."
What inspired you to try Vida Glow?
"I tried vitamin tablets but didn't notice any difference, so other mums referred me to collagen powder. I did some research and came across Vida Glow – and it was important that it was breast feeding safe as well."
When did you start seeing results from Vida Glow?
"I started noticing results after one month. I could see baby hairs coming through in those patches, so I quickly bought another lot of sachets."
How did seeing these results make you feel?
"I was so happy with the results! I couldn't believe it when I saw the difference in my before and after photos. And in such a short amount of time. I get so many compliments about my hair, and how long and healthy it's grown."
What do you love best about Vida Glow?
"I find taking vitamin tablets a chore, whereas, with these powdered sachets it's very easy to pour into my morning coffee. Mocha is the best flavour for a hint of sweetness in my coffee, I love it. Apart from it being easy to take, it works. My hair is growing back and my skin has also seen an improvement."
If you're experiencing post-partum hair loss, try following in Stephanie's steps and strengthen your routine with Vida Glow ingestible beauty.
As a marine collagen powder, Vida Glow stimulates collagen. While marine collagen creates firm, glowing skin, it also creates an optimal environment for hair growth. And with visible results.
Within weeks, Vida Glow's community see more and longer baby hairs and faster-growing hair long-term. In an easy-to-adopt daily sachet, marine collagen can naturally restore thick, healthy hair.
Add Natural Marine Collagen to your routine or discover more about the benefits of marine collagen. If you're seeing incredible results from your Vida Glow routine, we encourage you to share your experience with our community on Instagram @VIDA_GLOW and #VIDAGLOW, or directly with us at hello@vidaglow.com.
During pregnancy and breast-feeding, you should talk to a trusted healthcare practitioner before taking any supplement, including our ingestible beauty products.
Whilst many of our customers have been able to take our products throughout pregnancy and breastfeeding, clinical testing has only been done on non-pregnant women. Our formulations have been rigorously tested for quality and safety, however, we still advise speaking with your healthcare practitioner to check that our products are right for you and your individual needs.
SHOP THE STORY