Shine on: Radiance is Vida Glow's new ingestible solution for uneven skin tone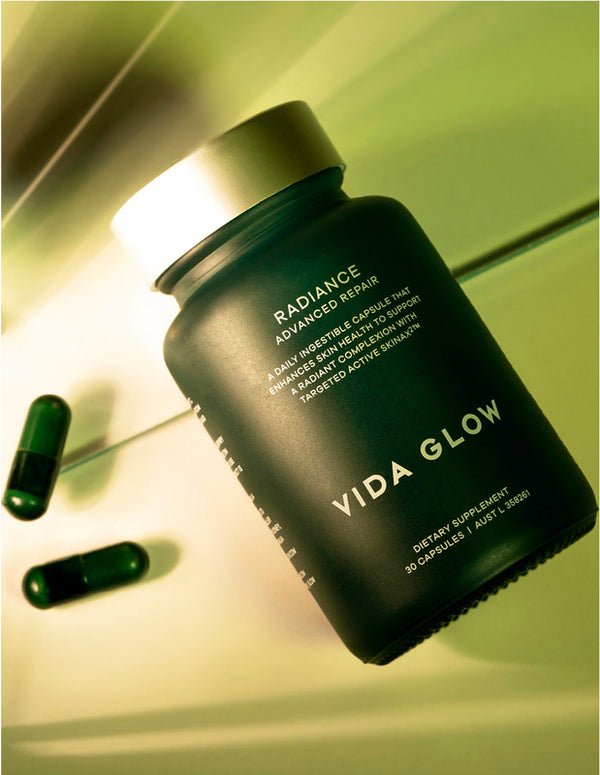 Luminous skin is illusive. From investing in supposedly high-powered serums to topical peels and in-office lasers, the quest for even, glowing skin knows no bounds.
Hyperpigmentation appears on skin's surface, but the biology of skin means there's more to dark spots and uneven skin than what meets the eye. And strides in ingestible beauty means pigmentation can be treated at its root, and without irritation.
Introducing: Radiance Vida Glow's first targeted solution in the new Advanced Repair range. Radiance is clinically studied to brighten melasma pigmentation, acne-induced dark spots, age and sun spots, and dark under-eye circles.
In a once daily and vegan capsule, Radiance is skin tone perfection.
As a skin brightening supplement, Radiance works on a cellular level – and with skin, not against it. To understand hyperpigmentation and benefits of an ingestible beauty solution, this is everything you need to know about skin's epidermis, melanin and pigmentation.
What is uneven skin tone?
The skin's shield-like function makes the epidermis susceptible to damage and resulting pigmentation in the form of dark spots, post-acne pigmentation, melasma, dark shadows and overall dullness.
Caused by pigmentation, uneven skin tone appears as dark spots and shadows on the skin's surface. But unlike summertime freckles, they're lasting and difficult to shift.
Dark age spots and sun spots are small, blurred and flat brown marks. They're often clustered where the sun naturally hits skin – like on the nose, cheekbones, backs of hands, forearms and shoulders. And, they darken and spread with repeated exposure and age.
Post-inflammatory hyperpigmentation (PIH) are the brown or pink scars left behind after blemishes. In severe instances, they can also appear with a sunken, dimpling effects.
Melasma is a mask-like shadow or mottled light and dark spots, commonly experienced across the forehead, nose, cheeks and on the upper lip and chin.
Dark undereye circles are shadows under the eyes, particularly at the inner corner, with a blue-purple undertone.
Shop the story
What causes these dark spots and dullness?
In the skin's epidermis, melanocytes are the skin cells responsible for producing melanin, the pigment which gives skin its tone. Hyperpigmentation is caused by intrinsic and extrinsic interferences with melanin, its overproduction and dispersion (or lack thereof).
Age and sun spots are pigmentation that results from sun UVB ray exposure – and emerging research suggests the blue light emitted from devices has a similar effect. Unlike UVA sun rays which cause sunburn on the skin's surface, UVB rays reach deeper into the dermis. This triggers an overproduction and poor dispersion of melanin, creating brown spots which rise to the complexion.
Post-inflammatory pigmentation is caused by localised inflammation and trauma to the skin during the blemish healing process. And can be worsened if pimples are picked at or popped. Inflammation triggers melanin synthesis, and this excess melanin diffuses into surrounding skin as a discoloured mark.
Melasma is brought on by estrogen changes experienced during pregnancy, post-partum or while on hormone medication, like the contraceptive pill. Estrogen is a melanocyte-triggering hormone, and it's this overproduction of melanin across the complexion that results in pigmentation as a mask-like, splotchy complexion.
Dark circles are more complicated, with a range of variables at play. Skin under the eyes is finer and has less collagen compared to the rest of the complexion – so darkness naturally appears more pronounced under the eyes. Dark circles can be predetermined by genetics, and caused by sun exposure, age and fatigue as skin's pigmentation deepens. In addition to the dark colouring, the appearance of dark circles can be exaggerated by shadows cast by puffiness and the shape of the eye and browbone.
Can uneven skin tone be treated?
Pigmentation and uneven skin tone can be improved with a range of at-home products and dermatologist treatments. But, the most effective, long-term approach is to simultaneously address dark spots and their causes on a cellular level.
How to brighten dark spots with skincare
Pigmentation is best treated by hyperpigmentation preventing, healing and brightening ingredients – so seek out antioxidants like carotenoids, vitamin C and zinc.
In Vida Glow's Radiance, the award-winning and naturally powered SkinAx2 ™ formula delivers these actives, plus antioxidant Champagne grape and melon extract into the bloodstream.
This is the advantage of ingestible skincare. Unlike topical solutions, the actives in Radiance reach skin cells in the epidermis, where they're most efficacious. While prescription topicals or laser treatments may be effective in lifting superficial imperfections short-term, deeper concerns can be treated from within, and without traumatising the skin's surface.
If results from cosmetic brightening products aren't doing as they claim, try a bi-directional routine with topical skincare and Radiance. With consistent supplementation SkinAx2 ™, the key active in Radiance increases luminosity by 26%, improves facial imperfections like melasma, blemish dark marks, age and sun spots by 18% and brightens dark under-eye circles by 12%.
By addressing dark spots and luminosity concerns on the skin's surface and from within, Radiance will create a brightening regimen that's highly efficacious and delivers increased radiance long-term.
Where does Radiance sit in an ingestible skincare routine?
As the first launch in the Advanced Repair range, Radiance builds upon Vida Glow's staples, like the firming and smoothing benefits of marine collagen and Anti-G-Ox's premature ageing prevention. Working to improve skin tone alongside any skin concern, Radiance can be paired with each of Vida Glow's existing Daily Essentials.
To firm skin and soften fine lines while brightening age-related skin tone imperfections, pair marine collagen with Radiance.
For premature ageing prevention and healthy skin repair, Anti-G-Ox complements Radiance's glow-inducing and dark mark-lifting benefits.
Coupled with the skin-plumping Hyaluronic Complex, Radiance improves skin imperfections and dehydration, for overall luminosity and a hydrated, youthful glow.
Taken consistently and every day with food, one Radiance capsule is an easy and highly efficacious addition to discolouration skincare regimens.
When topical pigmentation solutions fall short, enhance brightening skincare by treating dark spots and uneven skin tone with an ingestible treatment at the underside of the epidermis.
Shop the story