New Anti-G-Ox Berry: An ingestible skin treatment defending against premature ageing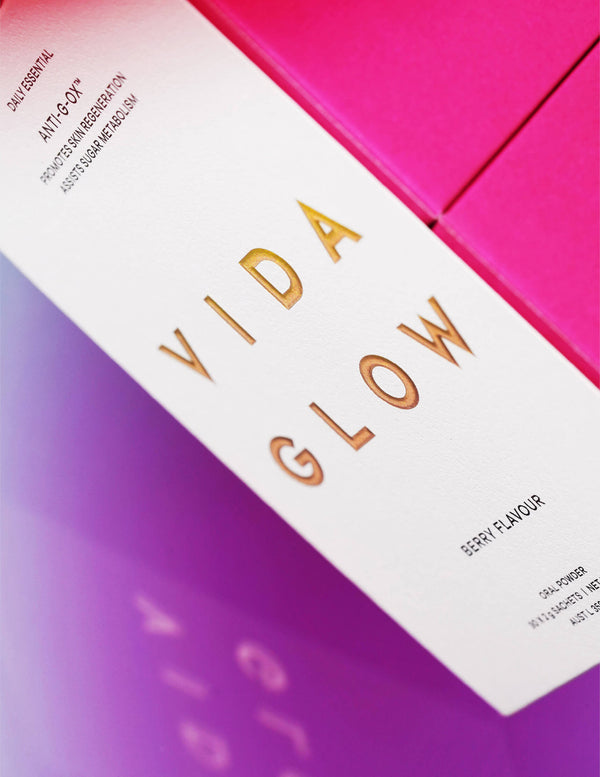 There's a reason our original Anti-G-Ox Citrus is a best seller. By concentrating the antioxidant power of ten active ingredients in to one daily sachet, Anti-G-Ox prevents premature ageing and treats damaged skin on a cellular level. Designed for life-on-the-go, Anti-G-Ox is an easy and effective way to protect skin against the invisible stressors of busy, modern living. And it's now available in a new, naturally fruity red berry flavour.
What inspired Anti-G-Ox Berry?
We understand your tastes are as individualistic as you and your routine. Like our range of Natural Marine Collagen flavours, Anti-G-Ox Berry was created to make daily antioxidant supplementation an enjoyable habit for everyone. And to give you options. With Anti-G-Ox's signature antioxidants and effervescence, Berry combines strawberry, raspberry and beetroot powder and pomegranate extract for a bright pink and fruity powder.
What does Berry taste like?
Anti-G-Ox Berry tastes of bursting red and pink berries, with a naturally sweet pick-me-up.
Has the Anti-G-Ox formula changed?
Berry is a new Anti-G-Ox flavour which joins the original (and award-winning) Anti-G-Ox Citrus. Anti-G-Ox Berry delivers the same high-potency, skin-protecting antioxidants, vitamins and minerals, just with a berry flavour profile. This means we've omitted Kakadu Plum, the ingredient that gives Citrus its zesty taste.
Shop the story
How do antioxidants protect skin?
Antioxidant support and maintaining a healthy lifestyle provides benefits across the body and keeps skin youthful. Whether Anti-G-Ox is used a preventative step or is part of a wider anti-ageing skincare routine, antioxidants prevent premature ageing and treat skin damage.
What is premature skin ageing?
Premature skin ageing is ageing that's accelerated by the environmental factors. Our modern lives are filled with skin stressors – think pollution, emotional and physical stress, sun damage from UV rays, blue light, poor sleep and processed, sugary diets. With prolonged exposure, our skin absorbs these stressor particles, called free radicals. Free radicals cause inflammation and damage skin cells, collagen and elastin, which inhibits their ability to regenerate. This gives the natural ageing process a head start.
What are the signs of premature skin ageing?
Premature ageing of skin beings to show as signs of tiredness. The complexion becomes dull and sallow, features are puffy, cheeks become inflamed and fine lines start to form around the eyes, smile lines and on the forehead.
What should I look for in premature ageing skincare?
From your twenties is when you should start thinking about ageing prevention. This is where antioxidants shine. Antioxidants (like vitamin C, E and niacinamide in Anti-G-Ox) are a premature ageing skin treatment which defends the skin and body against free radicals. This protection supports skin function and maintains healthy collagen and elastin production, preventing the causes of premature ageing and repairing damaged skin.
An effective preventative skincare routine is bidirectional, combining topical serums and internal antioxidant supplementation. Think of Anti-G-Ox as a vitamin C and niacinamide-packed antioxidant serum you can ingest for defence against environmental stressors that cause premature ageing.
What is the best treatment for ageing skin?
Antioxidants are also effective at treating signs of ageing once they appear. Antioxidants like vitamin C and niacinamide in Anti-G-Ox are anti-ageing all-rounders to keep skin bright, calm and smooth as sunspots and wrinkles develop. Antioxidants also support healthy skin function. This optimises the results of other ingestibles like our Natural Marine Collagen and topical actives as part of a wider anti-ageing skincare routine.
Why is Anti-G-Ox effervescent?
Anti-G-Ox Citrus and Berry are both effervescent powders, with an energising, fizzing sensation on the tongue or in water. While it feels satisfying, the effervescence also ensures maximum efficacy. Effervescent powders completely dissolve in moisture by the time they reach the stomach, so antioxidants are effectively absorbed into the bloodstream in 15-20 minutes.
Shop the story
Who should take Anti-G-Ox?
Antioxidants are powerful at preventing and treating signs of ageing, so Anti-G-Ox has benefits for all ages, skin types and concerns.
For those with a sweet palette, Anti-G-Ox Berry is also true multitasker. While offering a fruity hit, ingredients like chromium and vitamin B6 support healthy blood sugar levels and sugar metabolism. This minimises inflammation and collagen and elastin degradation caused by sugar, while you enjoy a naturally sweet alternative to mid-afternoon cravings.
How do I take Anti-G-Ox?
Take one to two sachets of Anti-G-Ox a day directly on the tongue or drink immediately in a glass of water. Like the original Citrus flavour (and everything Vida Glow creates), maximum benefits are achieved with daily, consistent supplementation.