Stressed strands: How to revitalise your routine after stress-induced hair loss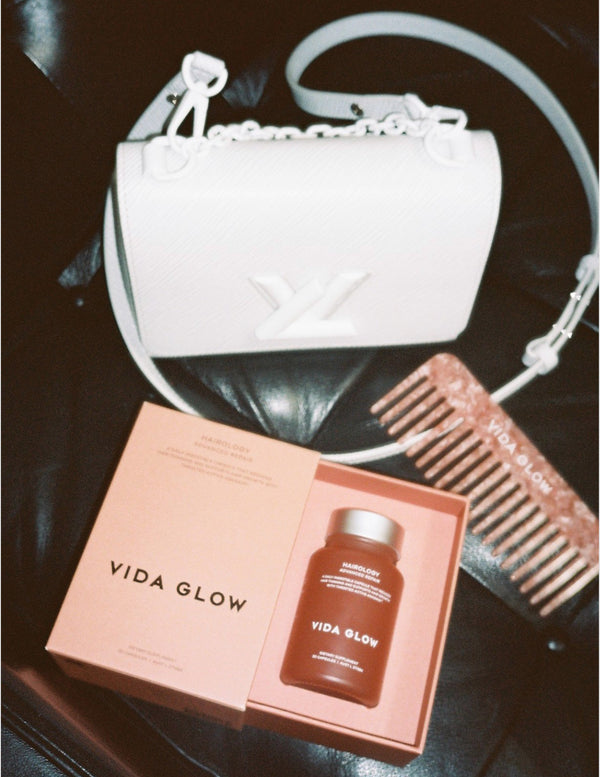 Modern, fast-paced living isn't always kind to us. From emotional stress to the oxidative stress of our bustling environment and physiological stress caused by illness or injury, we're under pressure. And our hair isn't immune.
Are you finding more hair in your hairbrush than usual? Is your hair thinning? Are your ends feeling fine and brittle? You may have stress-induced hair loss – also known as telogen effluvium.
Here, we've enlisted Vida Glow's Senior Research Scientist, Lauren Dewsbury, to share the science behind stress-induced hair loss and effective, fast-acting solutions for fuller, thicker hair.
What is telogen effluvium?
"Telogen effluvium (TE) is a term that describes a form of temporary, reversible hair loss," explains Dewsbury.
"TE is very common and can happen for a variety of reasons including stress, hormonal fluctuations, and nutritional deficiencies," shares Dewsbury.
Looking below the scalp, TE hair loss occurs when hair follicles are prematurely pushed into telogen, the resting phase of the hair growth cycle, causing hair to release and fall en masse.
What are the causes of TE?
"Stress can be a causal factor in hair loss," explains Dewsbury. "Acute or chronic stress may induce telogen effluvium (TE) or be an aggravating factor in a person who is already suffering from hair loss from hormonal, metabolic or immunological causes."
Our stress habits aren't doing our hair any favours, either. Stress-snacking and eating a craving-fuelled, unbalanced diet can contribute to nutrient deficiencies, of which zinc and biotin have been linked to hair loss. Meanwhile, free radicals and oxidative stress from lifestyle and environmental factors – like smoking and exposure to UV radiation – can also contribute to hair loss.
Telogen effluvium can also be a symptom of medical disorders or can be experienced following severe illness or sudden trauma. For this reason, it's best to start your hair loss recovery by identifying the cause of your concerns with a healthcare professional and seeing if Hairology is right for you.
What are signs of stress-induced hair loss?
Early signs of hair loss are excess hair shedding. You might notice it while detangling hair throughout the day, during your haircare routine or on your pillow in the morning.
With time, hair loss can become more severe – and as many as 70% of scalp hairs can be lost two months after the triggering event. It's common for hair to feel finer, thinner and damaged, and some may experience sparse patches at the top of the scalp.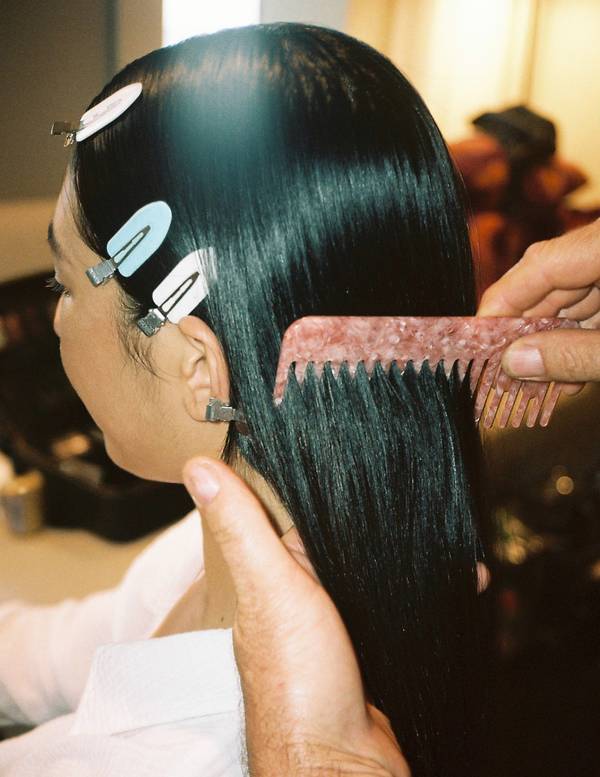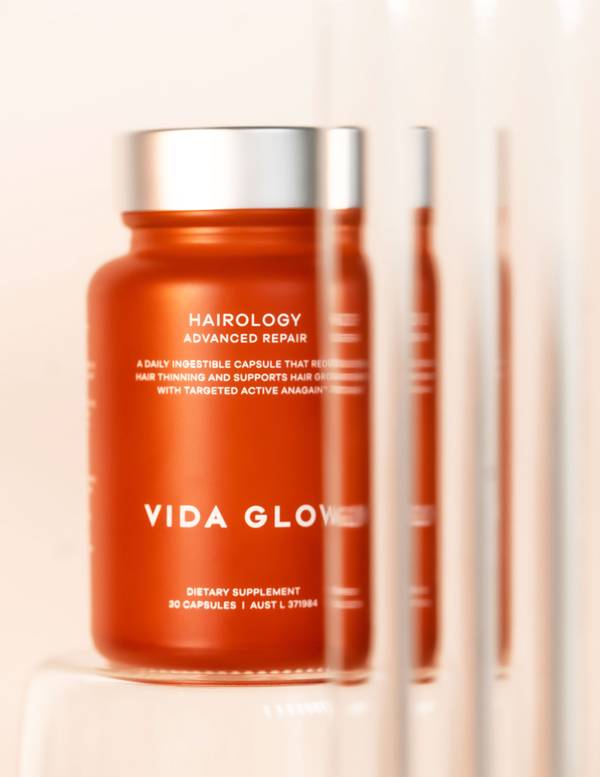 Can Hairology help hair loss?
Hairology is an ingestible capsule which works in two ways – both minimising hair loss and supporting healthy hair growth and thickness. With clinically studied active AnaGain™ hair loss is reduced, while supporting actives promote a healthy hair growth cycle.
A potent blend of micronutrients and the best vitamins for hair growth, Hairology contains:
Bladderwrack
A nutrient-rich brown seaweed extract, bladderwrack supports healthy thyroid hormones for optimal hair health and growth.
Zinc
An essential trace mineral, zinc supplementation helps maintain hair growth and decreases hair loss and thinning when dietary intake is inadequate.
Selenium
As an antioxidant, selenium protects against oxidative stress, which can contribute to hair loss.
Biotin
This B-group vitamin is vital for keratin function and maintaining healthy hair follicles. Biotin deficiency has been reported in up to 38% of women(1) experiencing hair loss, suggesting supplementation is beneficial to help minimise hair fall.
By combining AnaGain™ with multi-benefit micronutrients, Hairology is an effective solution for hair loss and thinning concerns. And in one daily, vegan capsule, Hairology strengthens your haircare routine from within.
How long to see results from Hairology?
Hairology is a targeted hair growth supplement for hair loss and thinning – with visible results, fast.
The formula's active AnaGain™ is clinically studied to reduce hair loss by 34% after 28 days of supplementation(2). At the end of the eight-week trial, 86% of consumers reported a reduction in hair loss, while 71% of consumers noticed an improvement in their overall hair condition(2).
If you're feeling stressed and its showing on your hair, try treating your hair loss and thinning concerns from within.
A targeted ingestible solution, Hairology supports longer, stronger and thicker hair. And tangible results are seen in 28 days with one effective, easy-to-adopt daily routine.
To strengthen your ingestible haircare routine, read more about the benefits of Natural Marine Collagen for hair health.
1. M. P. Birch and A. G. Messenger, "Hair density, hair diameter and the prevalence of female pattern hair loss," British Journal of Dermatology, vol. 144, pp. 297–304, 2001.
2. Grothe, T, Wandrey, F, Schuerch, C. Short communication: Clinical evaluation of pea sprout extract in the treatment of hair loss. Phytotherapy Research. 2020; 34: 428 – 431.