Gift Brilliantly: 13 Beauty, Home and Lifestyle Finds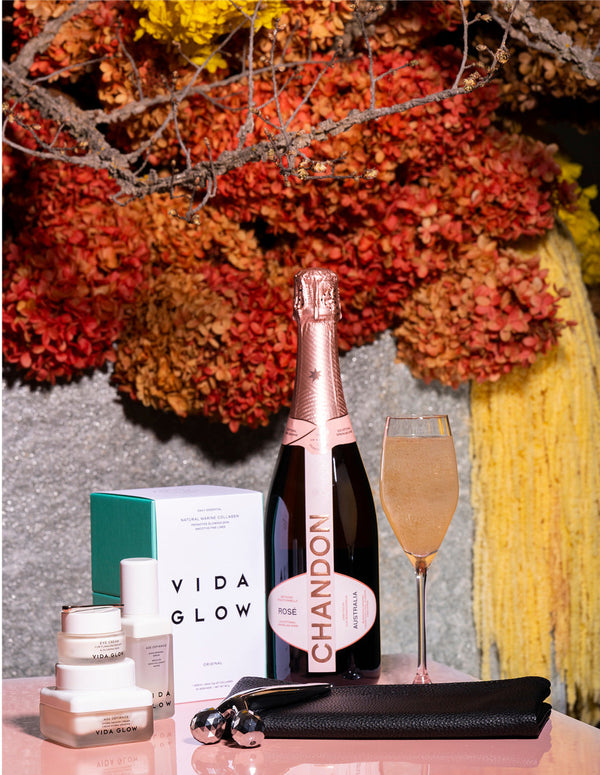 This holiday season, Vida Glow is gifting brilliantly.
Looking beyond go-to gifts, this year's holiday season is aspirational – with thoughtful pieces, elevated essentials and memorable experiences for all.
Curated to create mindful moments and spark lasting memories amongst vibrant, busy living, these are the gifts on team VG's gifting list.
Objects of desire
While Maison Balzac's signature carafes line the desks of Vida Glow HQ, it's glass décor with quirk that's caught our eyes. From a martini glass with an 'everlasting' green olive to amber-dotted pink champagne coupes, there's no shortage of playful takes on glassware. And, there's even 'fil parfum' fragranced threads for the final touch.
An ere of romance
Gifting fragrance is an art – but St. Rose's uncomplicated scents are sure to please. Balancing the feminine and masculine, Juliet In White Eau de Parfum's composition of jasmine sambac, Californian tangerine, Italian bergamot and Australian sandalwood ground its wearer in the nostalgia of summer. And, it's the kind of scent that's made to be shared.
Beautifully bare tips
Jocelyn Petroni's treatments are known for the detail in each touch and stroke – and her signature Naked Manicure embodies just that. With cuticle care and gentle shaping and buffing, nails are left clean and glossy while guests recline in white-washed suites.
To make the most of your treatment, strong and healthy nails can be enhanced with JP-approved Natural Marine Collagen.
A refreshed complexion
To even and illuminate skin after busy days and champagne-filled nights, reset their beauty routine from within with Vida Glow's Age Defiance Discovery Bundle. Pairing the best-selling and clinically proven Natural Marine Collagen with cosmeceutical skincare, skin is kept firm and smooth in one complete routine.
A dinner date with charm
Uplifting ceramic plates, tableware and place settings with graphic colour and painterly strokes, In The Roundhouse's creations are almost too delightful to put to use. Share a statement making catch-all White Shell Plate with Navy Edge or decorate their tablescape with the festive floral collaboration with Sydney illustrator Belinda Aucott.
A sun-safe glow
Leading a SPF revolution with their beloved 'skinscreens', Ultra Violette delivers SPF 50+ formulas that turn chore-like sunscreens into a daily good-skin habit. Gift the Skinscreen 101 duo for sunscreen new starters, or share swipe-and-go tints with their Lips Get Lit set of balms.
A defining moment
Guide those with long days and early mornings to decompress and depuff with Lonitalite's Platinum Contour Roller. By gently massaging around the brow bone, cheekbone and jawline in upwards motions, the cooling roller emulates the movements of a sculpting facial to lift and refresh skin in a matter of movements.
A welcome plus-one
Arriving with a bottle in-hand doesn't sound like the most inspired of choices – but it's a well-received for a reason. With a brighter take on the celebratory classic, Chandon's Rosé complements Pinot Noir grapes with redcurrant, cherry sorbet and pink grapefruit for a refreshing glass of sparkling.
Daily wellbeing reminders
Whether they're committed or just beginning their ingestible beauty regimen, Dosey's Mini Wellness Wallet is a friendly reminder to keep consistent with supplementation. As a daily dose organiser or travel-friendly companion for weekends away, the wallet's zip-up pocket and three pouches is a must for making the most of ingestible beauty.
A bright new beginning
Start their new year with luminous skin, courtesy of The Clinic's Blueberry Antioxidant Peel. Gently soften and smooth skin on its surface with this no-downtime chemically exfoliating treatment. Post-treatment, the skin-protecting powers of antioxidants can be taken inwards with the addition of Vida Glow's Anti-G-Ox Berry.
A carry all for all
Reworking discarded plastics into everyday essentials, Mimmi Terra's eco-conscious market bags and totes are set to brighten their days for the long haul. In a collection of neutrals, marine greens and pink hibiscus, there's a tote for any occasion and every shoulder.
Artefact of the azure
Incense are making a return. Leaving behind their messy and heady reputation, the latest iteration of incense are vibrant and refined – and their ornate holders hold just as much appeal. Start their new ritual with Corey Ashford's oyster-inspired Brass Incense Holder and his oceanside, ambience-inspired scents.
A set to rest and reset
For the active and always-on, try a gift that inspires comfort over cardio. With a relaxed fit and lightweight waffle fabrication, Stylerunner The Label's pastel tees and shorts are made for holiday lounging – or beachside walking.
SHOP THE STORY