Everything you need to know about growing longer, thicker hair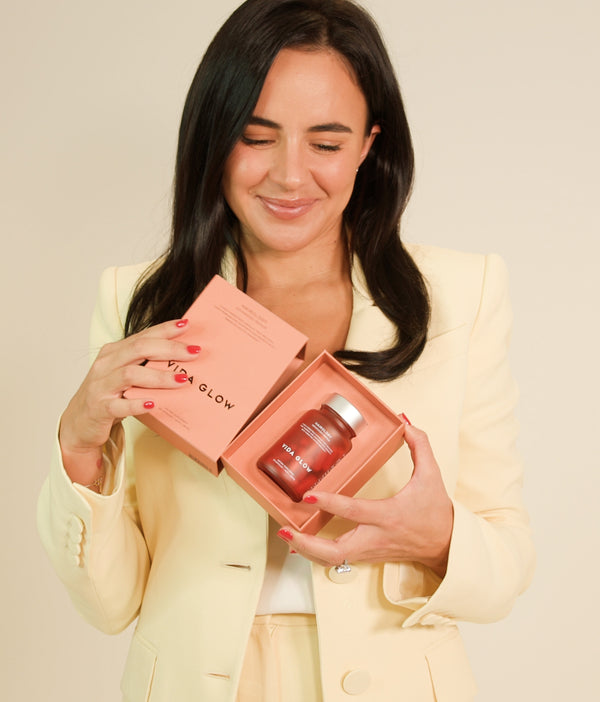 For many of us, our hair is a work in progress. The stress of styling and big lifestyle changes can leave our hair feeling damaged and thinning, and even trigger hair loss.
This means restoring hair to its naturally voluminous and shining state is a science. Hair health begins below the scalp, at the follicle. With a clinically studied ingestible beauty solution.
Enter: Vida Glow Hairology™ and our founder, Anna Lahey. Watch below as Anna explains hair loss and thinning, it's causes and the most effective ways to address your hair concerns. For longer, stronger and thicker hair in weeks.
What is hair loss and thinning?
Anna: Hair loss and thinning are very common hair concerns. Over 50% of women and 80% men experience it at some point in their life.
Hair loss is excessive hair fall. And it's often accompanied by hair thinning.
As part of the natural hair growth cycle, it's normal to lose between 50 and 100 hairs a day. But, if your hair is shedding in clumps, or you're noticing more strands in your brush, on your pillowcase or coming out in the shower, you could be experiencing hair loss.
What causes hair loss?
Hair loss can be brought on by lifestyle factors, like an unbalanced diet, nutrient deficiencies, stress or damage from colouring and styling. It can also be influenced by hormones and big life events like pregnancy.
How our hair feels and grows can be an indicator of our overall health. So if excess hair shedding is worrying you, seek advice from a medical professional.
How do you treat hair loss?
The health and density of our hair begins below the surface of the skin at the follicle. Each strand of hair is attached to a follicle. These are tiny organs that control our hair growth – they are the life source of our hair.
This is why hair concerns like hair loss are most effectively treated from within where topical products can't reach. By supporting the hair growth cycle and follicle health from a cellular level, our hair has what it needs to grow at its best.
What is Hairology?
Hairology is Vida Glow's targeted ingestible solution for hair loss and thinning.
We know hair loss concerns can be slow and disheartening to manage. So we launched Hairology to support hair growth and thickness with fast, tangible results.
How does Hairology work?
In a once-daily, targeted capsule, Hairology harnesses the efficacy of ingestible beauty.
The formula delivers bioavailable, clinically studied actives to hair follicles. This supports the hair growth cycle to reduce hair loss and thinning and promote healthy hair growth.
What type of hair loss does Hairology address?
Hairology addresses hair loss brought on by lifestyle factors, nutritional deficiencies and hormonal changes, like during pregnancy and post-partum.
What are the key ingredients in Hairology?
Hairology contains a considered blend of hair boosting ingredients. In Hairology, our targeted active AnaGain™ is paired with zinc, selenium, biotin and a brown seaweed extract called Bladderwrack. AnaGain™ works to reduce hair loss, while these essential vitamins, minerals and nutrients encourage thicker, stronger hair.
What is AnaGain™?
AnaGain™ is Hairology's trademarked active ingredient. It's an innovative pea sprout extract rich in phytonutrients. And AnaGain™ is clinically studied to reduce hair loss by 34% after 28 days of supplementation.
Why is Hairology a capsule?
As a capsule Hairology is optimised to reach its full potential. Inside ingestible cellulose capsules, Hairology's actives are protected and dissolve into the bloodstream at their most potent. So the formula reaches hair follicles with maximum efficacy. This yields visible results in as soon as four weeks – and with only one capsule a day.
What results will I see from taking Hairology?
With regular supplementation of Hairology you can expect thicker, longer and stronger hair.
After 28 days of supplementation, Hairology reduces hair loss by 34%. In clinical trials, 86% of participants reported a reduction of hair loss after eight weeks. And 71% experienced an improvement in the overall condition of their hair.
How do I take Hairology?
Hairology is a science-backed, potent formula. You only need to take one a day to see tangible results. Take Hairology morning, day or night, preferably with a meal. However suits you best.
Is Hairology suitable for all hair types?
Hairology is suitable for all hair types and colours. The formula works from within to support follicle and hair health. So whether you have fine, straight hair, waves or curls, you'll see great results from Hairology.
What's the difference between Hairology and Natural Marine Collagen?
Hairology is our targeted hair loss solution. It delivers a potent combination of actives to support a healthy hair growth cycle on a follicular level.
By contrast, Natural Marine Collagen is a multi-benefit collagen peptide powder. Marine collagen supplements essential peptides and amino acids to stimulate the body's natural collagen production. It creates an optimal environment for healthy hair in the skin's dermis layer, and supports firmer skin and stronger nails.
If you want to maximise your hair results, we recommend taking Hairology and Natural Marine Collagen in a routine together. While these formulations are effective on their own, results are enhanced when used together.
Add our Hair Revival Duo to your routine or keep reading about ingestible haircare here.