Vida Glow goes global with bold rebrand and star-studded launch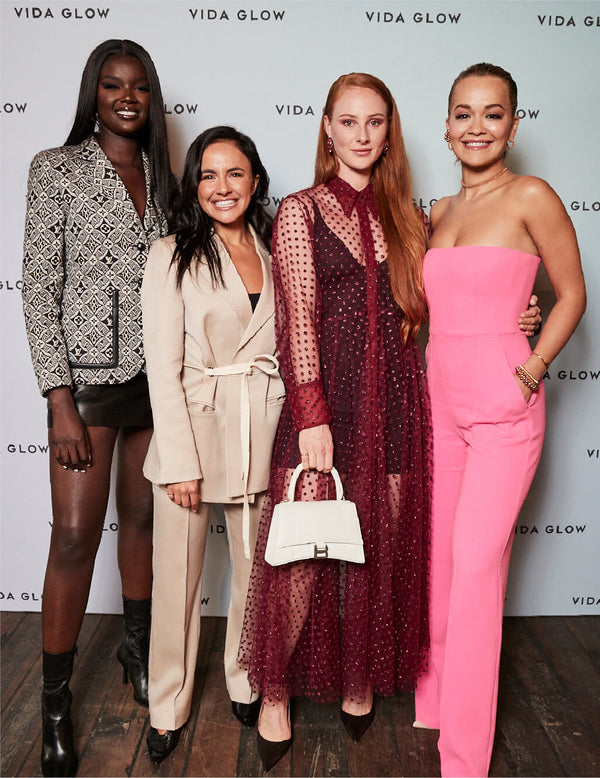 Two years in the making, our re-energised visual direction signals an exciting new chapter. Welcome to Vida Glow 2.0.
Bold. Vibrant. Powerful. More than a visual update, Vida Glow's rebrand marks an expansion into retailers in the US, UK and Europe (making it easier for you to get your hands on our best-selling products) as well as a commitment to delivering trailblazing innovations that are backed by clinical evidence. This means you can be assured that your Vida Glow routine works as hard as you do.
International and local celebrities gathered to attend Vida Glow's global launch which exhibited six highly immersive and multi-sensory experiences. Each space embodied a unique element of our hero product, Natural Marine Collagen. A collagen peptide powder, Natural Marine Collagen stimulates collagen production to plump and smooth skin.
Chart-topping singer Rita Ora, Australian musician Vera Blue, supermodels Duckie Thot and Gemma Ward, and Australian model and presenter Jesinta Franklin were just a few friends invited to celebrate the launch. The group toured the colourful brand activations, then enjoyed an intimate breakfast hosted by Vida Glow's founder Anna Lahey at The Campbell's Stores, overlooking Sydney Harbour.
In her address to guests, Anna reflected on the exciting moment for the brand. "Seven years ago, Vida Glow was just an idea Kieran and I had, and now we're here today with iconic global partners in the US, UK and Europe."
Creating great intrigue, Anna hinted at Vida Glow's future innovations, giving guests an insight into upcoming product launches.
"I don't want to give too much away, but the next big innovation we have coming is a huge step forward in ingestible beauty and addressing skin tone. This is a category first, and I can't wait to share it with you later this year."
Vida Glow's mission is to create powerful beauty and wellness solutions that fit easily into a busy active life. To achieve this Anna explained the brand will continue to take a first-movers approach to researching, testing and developing new products. Announcing Vida Glow's commitment to proven efficacy, Anna shared that all new Vida Glow launches will be supported by clinical trials. This progressive step ensures real, tangible results for our customers.
Shop the story