The Dietitian Whose Skincare Starts With Breakfast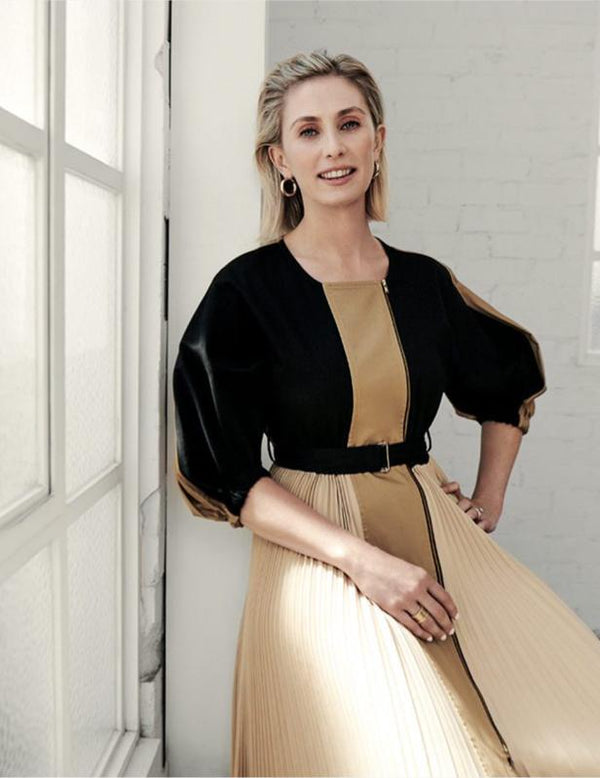 Introducing The Glow Series – where we talk to real people about the beautiful intricacies of life and how they stay glowing through it all.
This week, we're sharing an insight into the life of dietitian Chloe McLeod, a member of the Vida Glow Skin Professional Panel and our go-to expert for all things skin nutrition. As a passionate leader in her field, Chloe spends her days juggling the demands of motherhood, running a nutrition consultancy and helping people perform, feel and live at their best. In Volume I of The Glow Series, Chloe reveals her ingestible beauty routine and the key elements that allow her to live brilliantly.
What inspired you to become a dietitian?
Chloe: Growing up I had a number of intolerances, so always had to pay attention to what I ate. This resulted in me always being interested in what I put in my mouth, and the impact it had. Plus, I love helping people and talking to people, so it made sense to go down this path!
You specialise in food intolerance, autoimmune conditions and sports nutrition. Why are you personally drawn to this work and passionate about these areas of nutrition?
Chloe: Due to my own history with food intolerances, along with playing a lot of sports, plus a desire to help others. The role food plays in these areas is so significant; making the right choices for you can be life-changing. I love being able to help people be their healthiest selves, and am so grateful to be able to have such a positive impact on people's lives.
What are the key ways you support your body since becoming a mum?
Chloe: Since becoming a mum, good nutrition has continued to be absolutely important for me. Eating great quality, nutritious meals that support my needs across the day means that I am able to care for my daughter, as well as work effectively in and on my business.
"It's important to show my daughter the importance of taking care of your body, and treating it with love and respect, no matter your age."
Has becoming a mum changed your attitude towards your beauty routine – from ingestible beauty supplements to topicals?
Chloe: More than ever, my beauty regime needs to be simple and effective. This includes both what I am putting on my skin, as well as in my mouth. To me, it's important to show my daughter the importance of taking care of your body, and treating it with love and respect, no matter your age.
What does your ingestible beauty routine look like?
Chloe: I add one scoop of the Original Marine Collagen to my morning smoothie, or I like to include a sachet of the blueberry flavour to a glass of water later in the day. It's hydrolysed, so effective without requiring a huge dose. Data shows that a low daily dose of 2.5g is all that's needed to show an improvement in hydration, the reduction of wrinkles and increased elasticity over a matter of weeks.
Shop the story
What is your personal diet?
Chloe: The below is what works for me, and my individual circumstances. I aim to be plant-based the majority of the time, with fish a few times in the week and meat if I feel like it – I like to take a more flexible approach, listening to my body and what it requires.
Breakfast – I start the day with a big glass of water. If I'm training, usually a quick snack of a couple of dates. Breakfast is nearly always a smoothie at the moment. This will always have some fruit, either berries or banana, celery leaves (nutritious and less food waste) for a veggie hit, hemp seeds, peanut butter, Vida Glow Marine Collagen, kefir and water. If I've exercised, I'll add oats in as well.
Morning Snack – Coffee and fruit (whatever is in season).
Lunch – I nearly always have a salad with chickpeas or lentils, avo, EVOO, kraut and all the colours. Otherwise, it's leftovers.
Snack – Nuts, veggie sticks and hommus. Sometimes I'll make a veggie juice (beetroot, carrot, celery and ginger) and use the fibre left over from that to make a slice.
Dinner – Salmon with veggies is my go-to, otherwise, it's a tofu stir fry or a bean burrito bowl. Essentially a good quality protein, a whole grain or low GI carbohydrate, and plenty of colour. This is similar for lunch and dinner in how I build the plate, however, portions will vary pending appetite and needs. A main meal needs 5 key components- colour, carbs, protein, healthy fat and flavour
Dessert – If I'm still hungry, fruit and yoghurt, and maybe some dark chocolate.
How do ingestible beauty products support your work as a dietician?
Chloe: People are so much more interested in health and wellness, and paying attention to the role food has to play in so many facets of our lives, including beauty, is just wonderful. The old adage of 'you are what you eat' really stands true.