How to Reset Your Beauty Regime with our Collagen-based Skin Elixir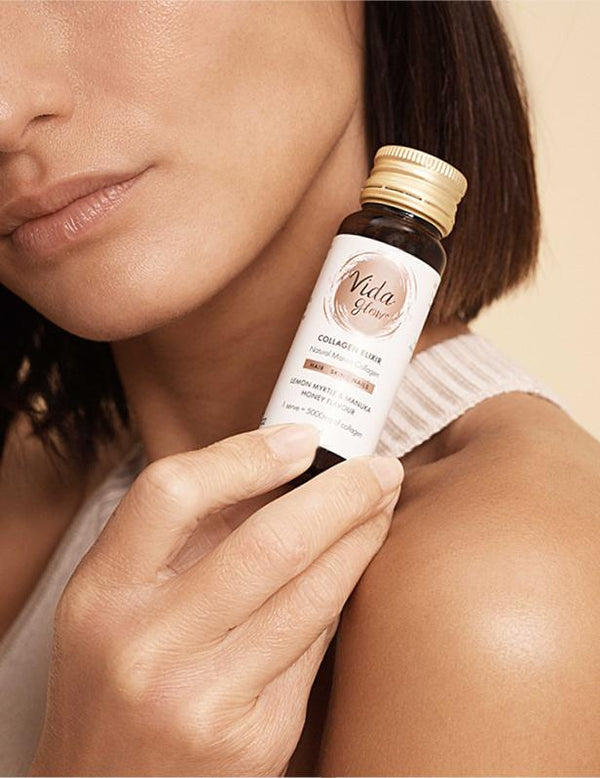 Looking after your skin, hair and nails are non-negotiable. But from time to time, we've all been guilty of letting our self-care routine slide. The good news is Vida Glow's Collagen Elixir can get you back on track! If you've found yourself in a beauty rut or you have a big event in the diary, Collagen Elixir is the perfect fixer-upper.
Collagen Elixir is the ultimate way to boost your glow and nourish your skin from within. Formulated using only the best hydrolysed collagen, our elixir provides a concentrated dose of activated marine collagen, ideal for a much-needed beauty reset.
Walking down the aisle soon? Have a milestone birthday coming up? Don't hesitate to start prepping early. Getting your glow on for these special occasions is essential with Vida Glow's Collagen Elixir. It's an all-in-one product for a dewy, plump and youthful-looking complexion while also taking care of hair and nails too. Stronger, thicker hair and nails? Yes, please!
A fuss-free fix
When time is of the essence, Vida Glow is great at resetting and transforming skin, hair and nails without any fuss. Instead of taking a skin supplement, a hair supplement and a nail supplement, just add Collagen Elixir to your daily routine. It comes in the perfect size for stashing in your bathroom, handbag or gym bag, and you don't need water to take it. It's as simple as sipping 1 small elixir bottle per day. We've made glowing on the go so easy.
Packed with transforming ingredients, Collagen Elixir is an optimal way to support skin, hair and nails in times of stress. With daily use, Vida Glow's Collagen Elixir is clinically proven to smooth fine lines and wrinkles, increase skin firmness and enhance skin elasticity.
All about hydrolysed collagen
We use natural marine collagen derived from fish skin, which is hydrolysed for maximum uptake results. Since collagen production decreases as we age, our formula is highly concentrated to support your skin with whatever it faces.
Our elixir is also clever at restoring nails and hair, which need 100% attention when the countdown to your special event is on. Marine collagen is a powerful agent that encourages strong nails and shiny, thick hair by strengthening hair follicles and maintaining nail health.
Our formulators didn't stop at ensuring Collagen Elixir is the ultimate beauty booster. Inspired by native Australian botanicals, the refreshing, ready-to-drink formula is flavoured with natural Manuka honey and lemon myrtle.
Whether you are after a boost or an upgrade to your existing self-care routine, Vida Glow's Collagen Elixir is the perfect beauty-pick-me-up. This targeted treatment cares for skin, nails and hair effortlessly.