Discover the difference: Anti-G-Ox and marine collagen explained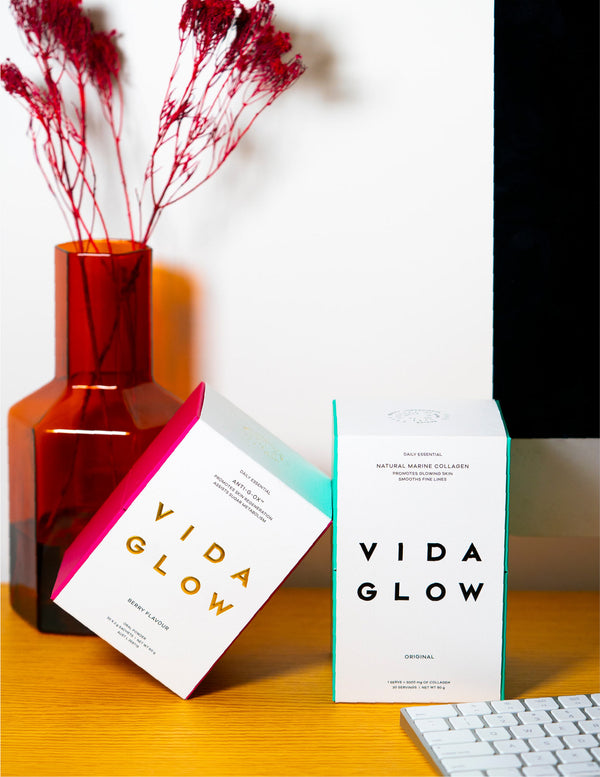 It's our mission to empower you with the knowledge to create a personalised beauty routine, inside and out. And the beauty is in the details.
Ingestible skincare is on the rise and innovating fast. Below, we breakdown the differences between our best-selling ingestible supplements: marine collagen and Anti-G-Ox.
The benefits
Marine collagen and Anti-G-Ox both prevent and address signs of ageing – just to different degrees.
Marine collagen supports the natural ageing process. It replenishes collagen production to address concerns that appear as the body's natural reserves decline. Marine collagen is particularly effective in plumping fine lines and wrinkles, smoothing skin texture and increasing skin elasticity. With consistent use, marine collagen supplements also keep skin firm and minimises wrinkles as ageing naturally continues.
Anti-G-Ox antioxidant powder protects skin against roots causes of premature ageing; inflammation, Advanced Glycation End products (AGEs) and oxidative stress. Environmental stressors enter the body as free radicals, creating dullness, blemishes and uneven skin tone. On a cellular level, reparative processes slow which ages skin from the dermis, outwards. By neutralising free radicals and supporting cellular repair, Anti-G-Ox helps to prevent premature ageing.
The ingredients
Marine collagen and Anti-G-Ox are efficacious anti-agers – but they have two distinct differences in their formulations.
Marine collagen is marine collagen – that's it. A single ingredient formula, marine collagen replenishes peptides and amino acids the body needs to assist collagen production that declines with age. Enzymatic hydrolysation breaks-down raw marine collagen from fish skin into collagen peptides with a molecular weight as low as 2,000 Daltons. The lower the weight, the higher the absorption and the better the results you will see. Vida Glow's marine collagen has the lowest possible molecular weight for collagen peptides, giving our powder an impressive absorption rate of 90%. Visible results for skin, hair and nails are seen within weeks of daily supplementation.
shop the story
Anti-G-Ox, on the other hand, is a daily skin treatment featuring 10 anti-ageing ingredients to defend against the impacts of modern life. It doesn't contain any marine collagen. Instead, Anti-G-Ox is an active cocktail of:
—Antioxidant vitamins and minerals (Vitamin C, vitamin E, niacinamide and zinc, which are anti-inflammatory to strengthen and support skin health.
—Hydrocurc™, a trademarked and water-soluble version of curcumin. It's a yellow compound extracted from turmeric which gives Anti-G-Ox it's bright colour and additional anti-inflammatory benefits while being palatable to ingest.
—Chromium and vitamin B6 support healthy blood sugar levels and sugar metabolism to minimise dietary impacts on skin.
—Biotin is a beauty enhancer and assists the body's metabolism of nutrients.
—Magnesium supports overall wellbeing and recovery.
The delivery
Vida Glow is designed for busy, modern living. Making ingestible skincare routines achievable and consistent is always top of mind.
Marine collagen dissolves through the stomach lining, so should be ingested by stirring into water or any food or beverage. Dosage is recommended by age and the desired speed of results.
—One serve: Between the ages of 25-35, one 3-gram marine collagen serving supports collagen for healthy skin, hair and nails.
—Two serves: From the ages of 36-45, two 3-gram serves boost collagen production and rejuvenates skin, hair and nails.
—Three serves: After 46, three daily 3-gram serves smooths, plumps and firms skin and strengthens brittle hair and nails.
Anti-G-Ox Citrus and the newly launched Berry are the world's first effervescent beauty powders. They fizz and dissolve instantly in contact with moisture, absorbing into the blood stream in 15-20 minutes. For maximum results and a naturally sweet pick-me-up, take one sachet directly on the tongue daily.
By supporting skin health and a youthful appearance, marine collagen and Anti-G-Ox are two targeted yet different anti-ageing solutions. But when partnered to tailor ingestible skincare routines, that's where their real strength lies.
shop the story