Discover our revolutionary acne supplement Clear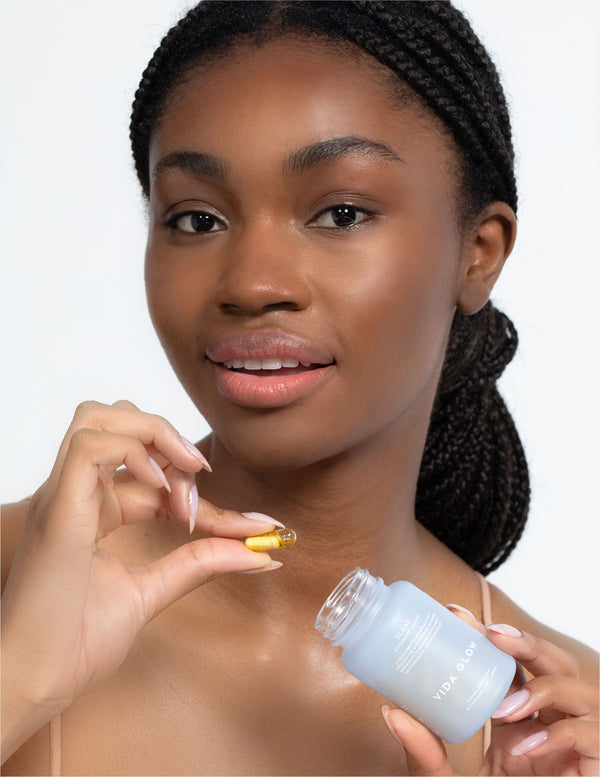 While problem skin appears on the surface, acne, breakouts, pimples, whiteheads and oiliness start deep within the skin and body. And that's where treatment is most effective.
Acne is the most common skin disorder in the world. It's estimated to affect 9.4% of the global population. Battling with breakouts can be an emotional and frustrating experience. And while there is a plethora of products available that have benefit for acne symptoms, they may not be the best acne treatment for you.
Topical acne treatments can be harsh and drying on skin which can worsen the problem. And while effective, prescription options may not be suitable for everyone.
Introducing Vida Glow Clear – a non-invasive ingestible treatment for symptoms of acne including pimples, breakouts, blackheads, whiteheads, skin inflammation and excess oil.
Read on to discover how to help get rid of acne with Vida Glow's Clear.
What is Vida Glow's Clear?
Clear is a once-daily formula to address acne concerns in both men and women. Clear combats the primary symptoms of acne, including pimples, blackheads, excess oil and skin inflammation. With consistent supplementation, Clear works to reduce breakouts, heal skin and restore clarity. Clear is an over-the-counter acne beauty supplement listed with the Therapeutic Goods of Australia (TGA).
What are the skin benefits of Clear?
If you're looking for the best acne supplement, then you can end your search with Vida Glow's Clear. Clear works on multiple acne concerns. Clear relieves symptoms of acne, decreases pimples, blackheads and oily skin, soothes skin inflammation, nourishes good gut flora and supports wound healing.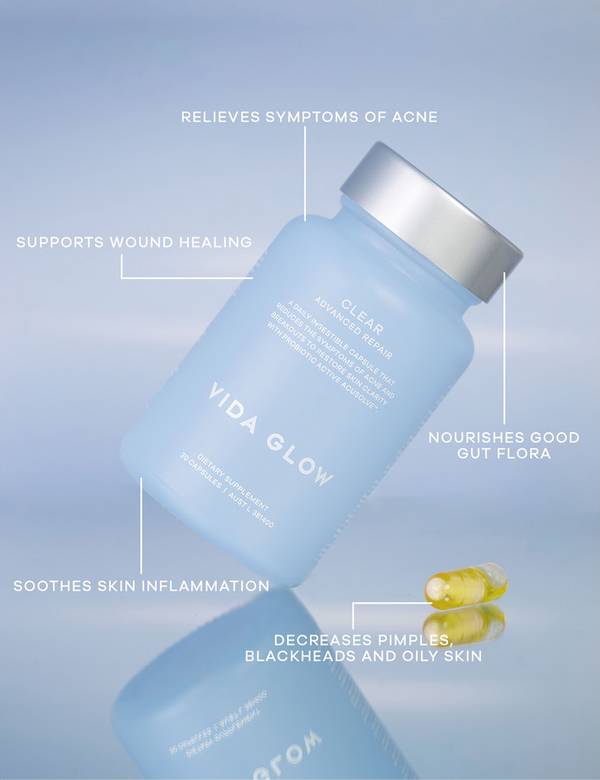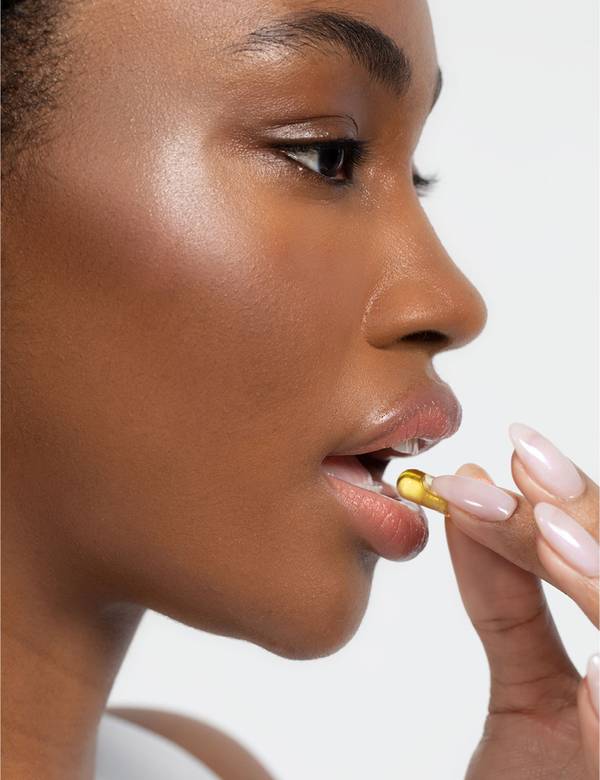 Who can take Clear?
Clear is an acne supplement targeting the primary symptoms of mild to moderate acne – including excess oil production, pimples, blackheads, whiteheads, skin inflammation and an imbalance of intestinal flora. Clear is suitable for both men and women, adults and teenagers from 15 years of age. Clear is not suitable for pregnant or breastfeeding women.
How to get rid of acne with Clear
Clear can help reduce symptoms of acne by working on the gut-skin axis, because yes, what happens in our gut can show up on our complexion. There is a bidirectional connection between our gut and our skin, and this is called the gut-skin axis. Poor gut health is linked to inflammatory skin conditions like acne. When gut lining is damaged and becomes 'leaky', molecules that shouldn't be able to pass through, can now pass through into the bloodstream. When the immune system detects this, it launches a big inflammatory attack to 'protect' the body, and this is how leaky gut can cause skin inflammation and breakouts.
Clear is formulated with a powerful probiotic that targets the gut-skin axis by helping to nourish good intestinal flora to restore a healthier gut and as a result support healthier skin.
What are the main ingredients in Clear?
Clear is formulated with the best vitamins to treat acne including an ingestible retinol, zinc, omega-3s, plus a powerful probiotic.
Probiotics for acne 
Vida Glow is formulated with a hero ingredient, a trademarked probiotic called Acusolve™. This works on the gut-skin axis by helping to nourish good intestinal flora to support healthy skin. Acusolve™ is a strain of Lactobacillus rhamnosus and is one of the most extensively studied probiotic strains available. In a clinical trial, Acusolve™ improved acne severity by 32% after 12 weeks, and 80% of participants experienced an improvement in acne symptoms1.
Omega-3s for acne
Clear contains a vegan algal oil blend, rich in omega-3s, which relieves skin inflammation and helps to support skin function and integrity. Omega-3s can help to block the production of inflammatory molecules that are directly involved in inflammatory acne.
Retinol for acne
In addition, an ingestible retinol (vitamin A) helps regulate oil production. Retinol provides oil control and supports overall skin health by promoting skin cell turnover. And we have included a therapeutic dose of zinc which has broad-spectrum benefits for acne due its antioxidant, anti-inflammatory, and antibacterial properties. Zinc helps to reduce symptoms of acne like pimples and blackheads and helps to stimulate a healthy immune response in the skin against acne-causing bacteria2.
What is cap-in-cap technology and why is it important? 
Clear is an acne pill in a capsule format. Clear is delivered in a unique cap-in-cap technology that allows ingredients that wouldn't usually co-exist in one product, to be combined. This means you get more potent ingredients, and better results, with just 1 capsule per day.
What results for acne will you see from Clear?
If you're looking for a fast acne treatment, Clear is the beauty supplement for you. Integrated into your daily regime, you can expect to see early benefits of Clear in just 1 month. However, it is recommended to supplement Clear for a minimum of 3 months in order to see optimal results.
If you're experiencing acne and breakouts, try taking an ingestible solution with Clear to help combat acne symptoms at their root cause. Clear can work alongside a topical routine to supercharge your skin results. And as a gentler alternative to in-clinic acne treatments, you might find that Clear is just the breakout supplement you need to return clarity to your skin.
Fabbrocini

, G.,

Bertona

, M.,

Picazo

, Ó., Pareja-

Galeano

, H.,

Monfrecola

, G., & Emanuele, E. (2016). Supplementation with Lactobacillus

rhamnosus

SP1 normalises skin expression of genes implicated in insulin signalling and improves adult acne. Beneficial microbes, 7(5), 625–630. https://doi.org/10.3920/BM2016.0089

 

 

 

Dreno

, B. et. Al., (2001).

Multicenter

Randomized Comparative Double-Blind Controlled Clinical Trial of the Safety and Efficacy of Zinc Gluconate versus Minocycline Hydrochloride in the Treatment of Inflammatory Acne Vulgaris, Dermatology 2001; 203:135–140