Benefits of hyaluronic acid for dry and dehydrated skin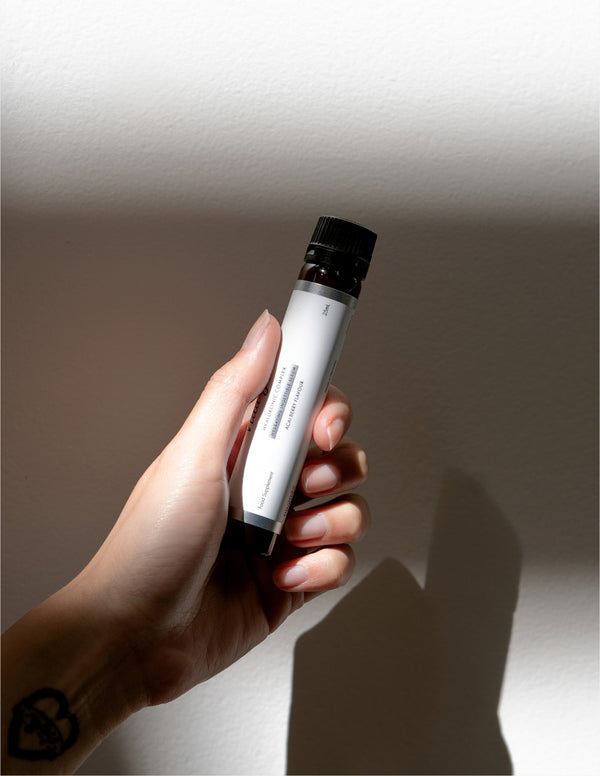 Hyaluronic acid

is skincare's favourite hydrating active. As the natural, water-

binding

molecule that gives skin its s

oft, plump

bounce, hyaluronic acid benefits go

deep

. 
While serums provide surface-level hydration, the best hyaluronic acid formulas take effect in the skin's dermis layer – meaning optimal results come from ingestible hyaluronic acid. Delivering on the active's clinically studied benefits where it counts. 
What does hyaluronic acid do to hydrate dry skin, strengthen the skin barrier and improve elasticity? Keep reading to find out why the magic molecule and an ingestible solution – like Vida Glow's Hyaluronic Complex – is the best hyaluronic acid for your skin.  
Hydrate dry skin

 
Hyaluronic acid attracts and holds water. When present in skin, hyaluronic acid draws in water from the body and atmosphere to hydrate the epidermis.
And just like marine collagen, hyaluronic acid isn't all one in the same. The best hyaluronic acid has a low molecular weight – meaning it sinks deeper into skin topically and can be absorbed by the body when ingested.
This is the advantage of Vida Glow's Hyaluronic Complex. Formulated with sodium hyaluronate, the ingestible ampoule's hyaluronic acid has a high bioavailability. With consistent, daily supplementation, ingestible hyaluronic acid hydrates skin at the epidermis for a glowing and supple complexion.
Maintain skin moisture
With its hydrating action, hyaluronic acid helps to maintain skin moisture. In skincare chemistry, hyaluronic acid is a humectant, a compound which holds water in skin. When used in tandem with oil-based actives called emollients, hyaluronic acid helps to replenish and main skin moisture levels.
To make the most of ingestible hyaluronic acid, complement your skincare routine with a topical, low molecular-weight hyaluronic acid serum for 360-degree hydration. Then, protect skin moisture and achieve lasting benefits with a moisturising cream.
For a complete Vida Glow routine and enhanced results, pair Hyaluronic Complex with Age Defiance Hydra-Memory Cream. While deeply hydrating skin with four forms of hyaluronic acid, Vida Glow's gel-cream moisturiser replenishes skin moisture, then protects it with a light layer of emollient shea butter. Take one Hyaluronic Complex ampoule, and smooth Hydra-Memory Cream across skin twice daily. It's an easy, effective skincare routine to amplify hyaluronic acid's benefits.
Soothe stressed skin
Sensitive and stressed skin can often be out of balance and prone to inflammation – resulting in a hot, flushed complexion with a compromised barrier prone to moisture-loss and worsening dryness. Step one is rehydrating skin with hyaluronic acid. Next, combat the causes of inflammation and sensitivity at their root. As a complete solution, Hyaluronic Complex is formulated with antioxidant actives – including acai extract, vitamin C and coenzyme Q10 – to protect against free radicals. Meanwhile, hyaluronic acid-protecting herb, gotu kola, and healing mineral zinc repair and soothe the complexion. With Hyaluronic Complex's multi-benefit formulation, the unwelcome causes and effects of stressed and sensitive skin are treated on a cellular level.
Strengthen skin barrier
Hydrated skin is healthy skin – and a strong skin barrier is essential. For a smooth canvas and lasting hydration, hyaluronic acid benefits are also supported with niacinamide in Hyaluronic Complex. A form of vitamin B3, niacinamide helps stimulate ceramide formation, a natural oil-like substance to strengthen skin's barrier. This creates a natural, protective barrier on skin's surface to maintain skin hydration. Skin is left feeling calm, and is protected against dehydration and environmental stressors for naturally hydrated and healthy skin.
Improve skin elasticity
Much like collagen and elastin, hyaluronic acid is integral in skin's structure and soft, smooth surface. By boosting the body and skin's natural hyaluronic acid reserves, ingestible hyaluronic acid supports marine collagen and improves skin elasticity. With consistent supplementation, ingestible hyaluronic acid has a plumping effect on dehydration fine lines and deeper wrinkles. With a 'bouncy', glowing effect across skin.
To hydrate dry skin and soothe your skin, Hyaluronic Complex's ingestible ampoule unlocks the full benefits of hyaluronic acid. And with tangible, glowing results.