The inner million: Vida Glow celebrates 7th birthday with a global giveaway of one million samples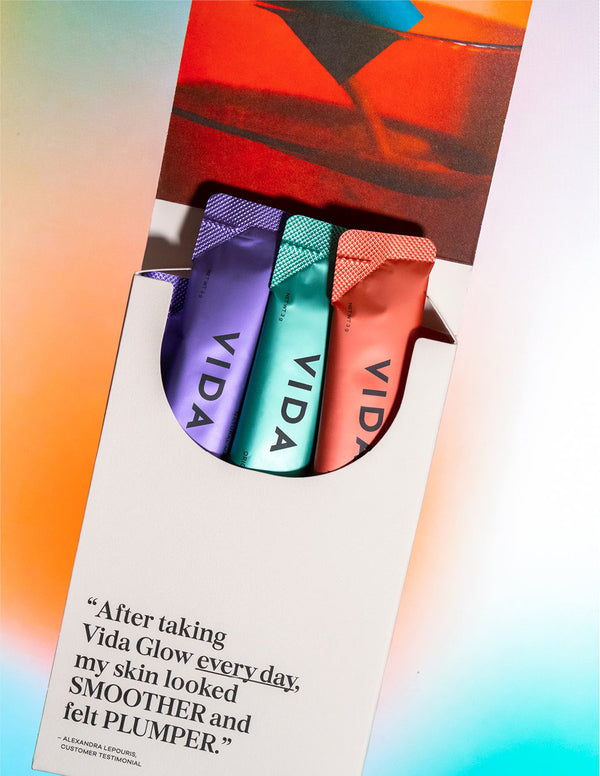 Firm Skin. Thick Hair. Strong Nails. In honour of Vida Glow's anniversary, put the VG promise to the test with a complimentary product trial.
Vida Glow is active beauty, made for real life. Founded on the unmatched benefits of Natural Marine Collagen for skin, hair and nails, Vida Glow is the world's number one marine collagen brand, and an innovative leader in ingestible beauty.
In the crowded and complicated world of beauty, Vida Glow was a first-mover in collagen supplementation, an industry that's anticipated to be worth $6.5 billion by 2025. And Natural Marine Collagen is just the beginning. Vida Glow is set to revolutionise the beauty industry with targeted solutions and bidirectional beauty – starting with their award-winning Anti-G-Ox, Hyaluronic Complex and the newly-launched Radiance capsules for skin tone perfection.
Supporting youthful, glowing skin, thick hair and strong nails, Natural Marine Collagen introduced Australia – and now over 20 countries globally – to ingestible beauty and its limitless possibilities. In pairing marine collagen's potent efficacy with a formula that's made for busy, active living, Vida Glow's success was born – now selling one unit of Natural Marine Collagen every four seconds.
Driven to revolutionise ingestible beauty, Vida Glow has set the tone for an innovative new era as the nutricosmetics industry continues to grow. By innovating forward with first-to-market solutions for modern beauty concerns and investing in clinical trials for each launch, Vida Glow is shining a light on ingestible beauty, its clinically proven benefits and inspiring complete consumer confidence. When it comes to scientific formulations, active ingredients and professional advocacy – Vida Glow is unmatched.
While Vida Glow champions ingestible beauty, it's a bi-directional beauty philosophy, combining topical and ingestible solutions into one routine, that sets the brand apart. By offering a suite of active ingestible treatments and a soon-to-launch skincare collection, Vida Glow inspires a holistic beauty regimen that's tailored and science-backed, inside and out.
Now, it's your turn to put Vida Glow to the test.
In celebration of the brand's seventh anniversary, Vida Glow is gifting one million Natural Marine Collagen sample packs (and complimentary shipping) across Australia, China, the UK, France and Germany, from the 7th to the 20th of September. In a six-sachet sample of Vida Glow's Natural Marine Collagen flavours, find your favourite in the best-selling Original, Blueberry and Peach powders.
The strength of ingestible beauty lies in a consistent routine. This is the time to explore Vida Glow's visible results and commit to a science-led beauty regimen, on us.
Consider this your fresh start towards glowing skin, enviable hair and unbreakable nails.
Collect your complimentary 6 Day Marine Collagen Trial Pack